MercuryTel
Trusted by businesses, schools and municipalities across Michigan…
As Low As $10.40/Mo Per Extension
New Phones included in Monthly Rate
Unlimited Calling to the USA and Canada
Serving All of Lower Michigan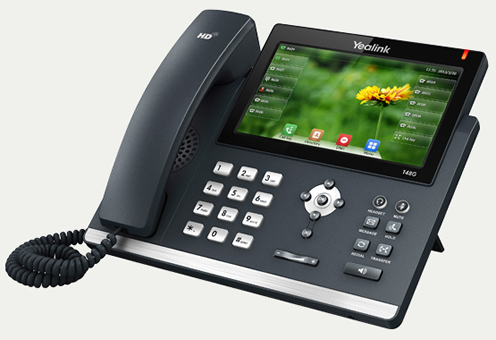 Business Phone Service
With our unique combination of phone service, technology, and expertise, and backed by our amazing PhonePro support, MercuryTel is the business phone service you've been longing for. Scalable to meet the needs of organizations small and large, MercuryTel is packed with features, exceptionally customizable, and incredibly affordable. Your local and long-distance calling, Cisco®, Mitel®, and Yealink® digital phones, and unlimited support are included in the fixed, monthly charge.
Advanced Capabilities
Until now, having your own phone system was the only way to get the most advanced capabilities—but phone systems are expensive! As the technology ages, costly repairs and upgrades are required, and phone system dealers charge for every add, move and change. With MercuryTel, there is no phone system to buy and every feature is included at no extra charge! Your business will sound more professional, communicate more effectively and work more productively, without the big phone system expense.
Premium Features
Whether you're a small business just starting to grow, or a mature company with well-established needs, MercuryTel has the features you need now, and capabilities you can use in the future.
Multi-location & Home Office Options
Connect multiple sites
Work from home as though you are in the office
Overflow calls between locations
Mobility
Call Forward to any number or multiple numbers simultaneously
Find me/follow me to multiple locations with time of day rules
Voicemail to e-mail
Web Portal
Manage users, ringing, and queues
Listen to, delete, and forward voicemail messages
Web browser and Microsoft Outlook® click-to-dial
---
Automated Attendant
Unlimited menus and routes
Day, night, and alternate modes
Market Tracking
Phone numbers available across U.S.
Call tagging to answer accordingly
Record marketing calls
Call Center
Unlimited queues with priorities, escalations, and overflows
Background music and announcement messages
Queue monitor in web portal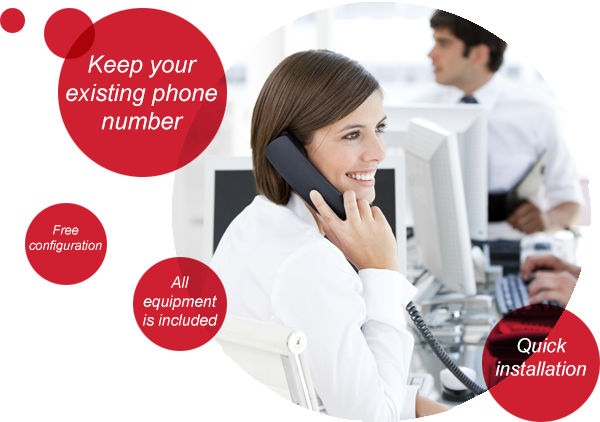 Comprehensive PhonePro Support
Every MercuryTel customer gets unlimited access to our Comprehensive PhonePro Support, including:
Unlimited changes at no charge.
We monitor your network continually to catch and address problems before you even notice them.
The Cisco® switches we use are made specifically for digital phone service, and are able to proactively report to us cable faults and equipment exceptions that could affect call quality.
With remote access to the equipment we install, our PhonePros are able to address concerns and make changes quickly.
Unlimited support, including on-site service, is included at no extra charge.
Training for you and your staff on how to use the phones, web portal, software, and any customizations, is available as often as you want, over the phone or on-site.
Need to make international calls?
Local and long-distance calls to the United States and Canada are included with our service, and calls outside the United States and Canada are just $0.15 per minute!
MercuryTel PhonePro Promise
We're happy when you're happy. If you're not happy with your MercuryTel service, phone, or support, tell us and we'll fix it.
We promise to prioritize support requests in sensible ways. Business-affecting service calls get top priority. Should you need us on-site for a business-affecting service issue, we'll be there as soon as possible.
When you e-mail us, we promise to get back to you quickly, and always within 24 hours.
We promise 100% MercuryTel phone switch availability.
Cisco is a registered trademark of Cisco Systems, Inc. and/or its affiliates in the United States and certain other countries. Microsoft and Outlook are registered trademarks of Microsoft Corporation in the United States and/or other countries.
Mitel is a registered trademark of Mitel Network Corporation.
What Clients Say
I just had to send this email to you. Phil came in this morning and said he called China last night and was thrilled with the quality of the voice and with the ease of the call. I also wanted to let you know that all the phones have been working so good and we are very happy with them:) Thank you for all of your energies and kindness getting us up and running correctly!
Thank You! Last week I could not connect to www.mercury.net. I called tech help and learned that your experts identified unusual activity. They were about to contact me when I called. Over several phone calls, Tim, Jason and one other guy that I did not write down helped me re-establish connection and helped me get established with Malwarebytes, etc. All three of these guys were TERRIFIC! I have been a Mercury customer since about 1997 and one reason is the great service provided. Thanks Mercury Team!
The local rep was very helpful to me when my computer was acting up; he solved my problem in a few minutes. You are a great company and I am very happy with the service provided to me for many years.
We have had your service for 6 years and have always been delighted with the professionalism of every person we have met.
I have to tell you, the service is awesome. We've been a customer of yours for many years, since (dial-up)... Service has been absolutely fantastic.
Jason, thank you so much for all you did ... for being so helpful and pleasant ... that sure makes a difference ... one doesn't always get good service today.
This evening, I called Mercury support to help troubleshoot a WiFi connection from the router. Noel was our support person. I wanted to let you know what a great job he did. He was very patient and continued troubleshooting until the issues were completely resolved. He was very pleasant and very knowledgeable. I was very impressed. Even when I became frustrated with the router reset not working (when it really was working), he assured me we would resolve the problem. And we did! Job well done Noel. Thank you!
Thank you so much for all you do for your customers. You are always so helpful when called upon, even for simple frustrations… your employees are quite knowledgeable along with their kind dispositions! Many thanks.
I just wanted to take a moment to thank you for the wonderful service we have received from Mercury since we joined Mercury. Even without all of the recent added enhancements, the service you have provided has been without fault. We sometimes take for granted those things. Thanks.
Good morning Noel. Yesterday on OPEN MIC on our local radio station your boss was on. I called in and told him what a great job you guys (you and Nate) did. Maybe he will take you out for breakfast? Have a great day!
Big thank you to Brad for taking the time to diagnose and getting my iPad working correctly and able to send my emails. I will definitely recommend Mercury Telecom to anyone looking for Internet service.
Thanks for great service without the ads! We are a long time customer and we're grateful we found you.
Switching to MercuryTel is Five Easy Steps!
Ordering:

Our Sales Professionals learn how phones are used in your business and are trained to identify features and technologies that can streamline your operations. We listen to what you like about your current phone system—and what you don't—as well as your wishlist of new features to prescribe the equipment and services that will best meet the needs of your business.

Pre-Installation Analysis:

Our PhonePros come on-site to determine everything that's needed to make your service work dependably and predictably, guaranteed. Our on-site analysis includes evaluations of your routers and switches, network connection, and cabling. Should you need cabling installed or upgraded, we do that too, and will provide you with a quote.

Customization and Integration:

We set up all menus, call queues, voice mailboxes, and other features you want, free of charge. If you currently have on-hold music or announcements digitally recorded, we can use them at no charge.

Professional Installation:

Our PhonePros configure the phones, switches, and routers, and then come on-site to install them. We install everything so you know it's installed right.

Turn-Up:

The porting of your numbers is scheduled for the date of your choosing and professionally overseen by our PhonePros to ensure a seamless transfer. To make sure your switch to MercuryTel is smooth and successful, we station a PhonePro at your office on the day of turn-up so that we can make changes and address any training needs immediately.
Frequently Asked Questions
Yes. The $5.00 charge per toll-free number per month includes the first 60 minutes of use. Additional minutes are $0.035.
MercuryTel service includes all local and long-distance calling for one low, fixed price. There is no need for a separate long-distance company.
No. All equipment is included in the monthly price.
MercuryTel does not use public Internet connections for your phone calls, but instead uses private network connections. In addition, we install routers and switches that are specifically configured to carry phone traffic.
Setup and configuration is free, no matter how complicated it is.
From the time you order until your MercuryTel service is installed and operating is typically one to three weeks. The main factors that affect installation speed are number porting, call flow complexity, and any physical cabling requirements.
They won't be. Our PhonePros carefully plan implementation to eliminate down time and minimize disruption to your business.
Whitepapers
Learn about the benefits and features of MercuryTel for your office or business. Choose a white paper to download below: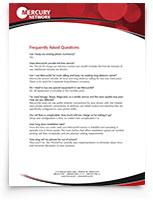 Overview
Service Level Guarantee
Five Easy Steps
Comparison
FAQs
Features
Phones


Related Services
Residential Phone
Use your high-speed internet connection to make and receive calls using your existing home phones.
Learn More
Would you like more information?